Program of BIGS 2018
Program at a GlanceDay 1 (Dec 12)Day 2 (Dec 13)
Download Program as a pdf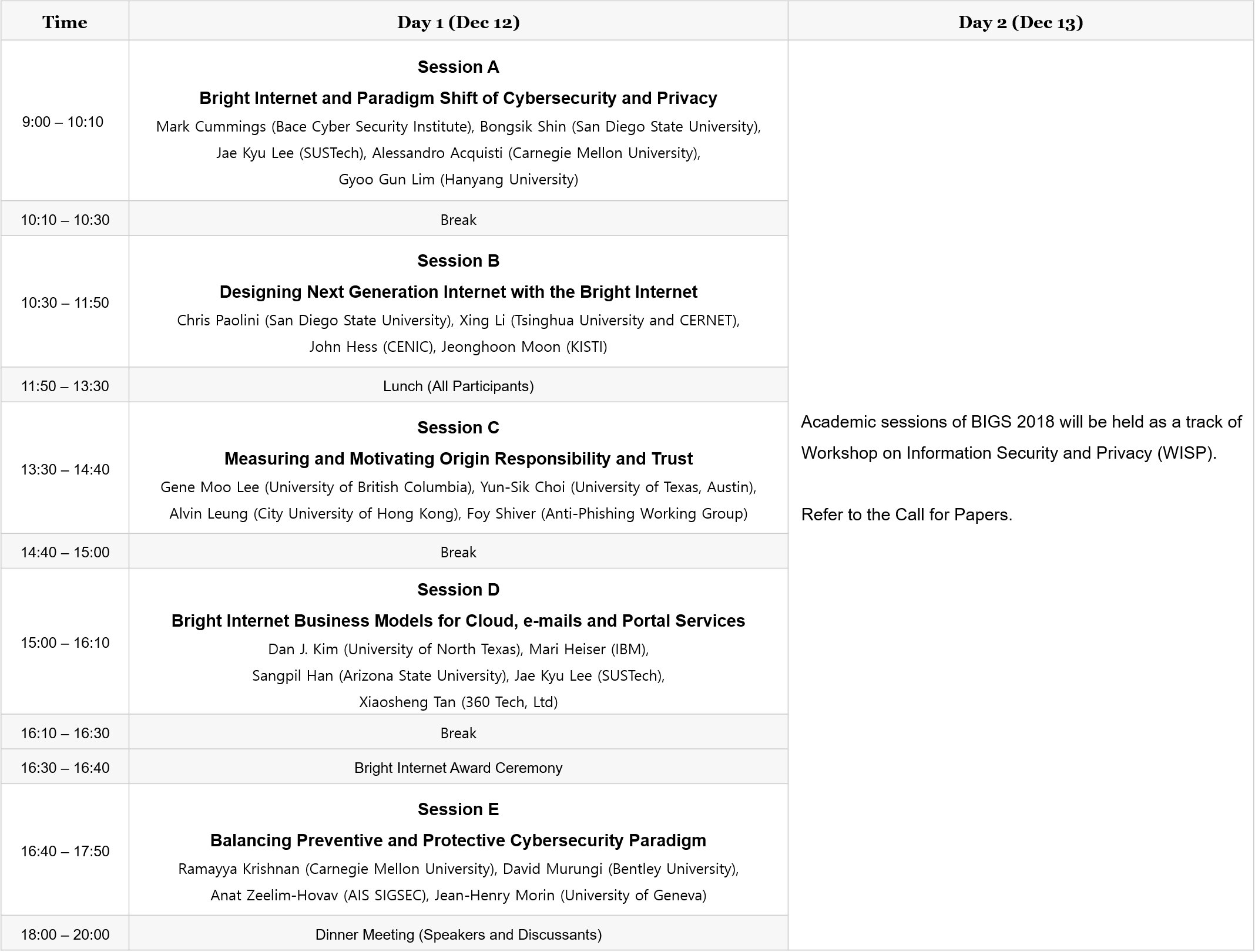 Day 1 for Practitioners
Overall Theme: Deployment Strategies of the Bright Internet
The primary themes of BIGS2018@SF for practitioners track on December 12th investigate the following questions in each session.
Proceedings will be available only to the registered participants.
[9:00 - 10:10] Session A

Bright Internet and Paradigm Shift of Cybersecurity and Privacy
What should we do to make the cyberspace safe fundamentally? To prevent the risk of cybercrimes and malicious behaviors from the threat sources, what should the design goals of future Internet be? What are key privacy issues and how can we reconcile the issues of privacy with preventive cybersecurity? What should be the architecture of Bright Internet with applications? What are the potential of new businesses opportunities in this endeavor, and what is and should be the national policies?
Session Chair: Mark Cummings, CTO of Bace Cyber Security Institute, and Bongsik Shin, San Diego State University
Goals and Global Progress of Bright Internet (Jae Kyu Lee, Southern University of Science and Technology; Founder of the Bright Internet Vision)

Economics and Behavioral Aspect of Privacy in Designing Future Internet (Alessandro Acquisti, Heinz College, Carnegie Mellon University)

Discussant (Gyoo Gun Lim, Hanyang University)
[10:30 - 11:50] Session B

Designing Next Generation Internet with the Bright Internet
Should the protocol of future Internet fundamentally consider the cybersecurity? Can the principles of Bright Internet provide an alternative for future Internet? What other alternatives do we have? What are the available technologies that can be adopted for the implementation of Bright Internet? Can IPv6 and SAVA (Source Address Validation Architecture) be solutions for the identifiable anonymity? What new technologies and services need to be developed further and what kind of global collaboration should be made? Who can take advantage of the new business opportunities?
Session Chair: Chris Paolini, San Diego State University
Can the IPv6 realize the Bright Internet? : CERNET Experience (Xing Li, Professor of Tsinghua University, Deputy Director of CERNET Research Center)

Best Practices and New Architecture Designs for the Secure Future Internet (John Hess of CENIC, California, USA)

How Can We Move Peta-Scale Data over KREONET? (Jeonghoon Moon, Korea Institute of Science and Technology Information)

Do the Vision of Future Internet Projects Coincide with that of the Bright Internet? (Chris Paolini, Professor of San Diego State University)
[13:30 - 14:40] Session C

Measuring and Motivating Origin Responsibility and Trust
To change the cybersecurity paradigm from self-defensive protection to the preventive elimination of threat sources, we need to take into account origin and deliverer responsibility. How can we measure the trust and responsibility levels of origins and deliverers with the destination matrix? How can we motivate the origins to be more trustworthy and thus reduce cyberattacks including phishing? Who can become key players in this business?
Session Chair: Gene Moo Lee, University of British Columbia
CybeRatings: An origin responsibility measurement framework using spam and phishing data (Yun-Sik Choi, University of Texas at Austin)

How to incentivize firms to adopt anti-identity theft countermeasures? (Alvin Leung, City University of Hong Kong)

How can we mitigate the origins and delivery of phishing attacks? (Foy Shiver, Anti-Phishing Working Group, Atlanta, Georgia)
[15:00 - 16:10] Session D

Bright Internet Business Models
Are the cloud and e-mail services abused as a source of cybercrimes, and did the portal spaces mislead the societal opinions? How serious are these problems and how to fight against them? Can the Principles of Bright Internet fundamentally ameliorate these problems? How were the bots abused to distort political issues? Can the Bright Internet based cloud, e-mail and portal be market driven business models? What are the real world cases with this perspective?
 Session Chair: Dan J. Kim, University of North Texas
How to Fight Cybercrimes on the Cloud? (Mari Heiser, IBM Cloud)

Bot-Driven Opinion Rigging Scandal: Druking Experience on a Portal Naver in South Korea (Sangpil Han, Arizona State University)

Concept and Practices of the Bright eMail and Bright Cloud (Jae Kyu Lee, Southern University of Science and Technology, and Dan J. Kim, University of North Texas)

Discussant (Xiaosheng Tan, President of 360 Tech, Chief Security Officer of Qihoo 360)
[16:40 - 17:50] Session E

Balancing Preventive and Protective Cybersecurity Paradigm
How can we balance the Preventive and Protective Paradigms in Cybersecurity, Privacy, and Fake News? How can we reduce the threat of fake news by adopting the principles of Bright Internet? What should be the technologies and policies of next cybersecurity research and deployment? What can be the new research and business opportunities?
Session Chair: Ramayya Krishnan, Dean of Heinz College, Carnegie Mellon University, President-elect of INFORMS
How Can We Reduce the Threat of Fake News? (David Murungi, Bentley University)

How to Create Synergy of Preventive Paradigm and Protective Paradigm? (Anat Zeelim-Hovav, Immediate Past President of AIS SIGSEC)

Enhancing Trust of Sharing Economy using the Bright Internet Platform (Jean-Henry Morin, University of Geneva)
Day 2 for Academic Researchers
It is organized as a track of AIS WISP (Workshop on Information Security and Privacy).
Please refer the WISP website for details, including program and proceedings.